Sterilization equipment ensures a clean, germ-free, safe dental office. Many dental sterilization processes are mandated by local, state, or federal regulations.
Protective Clothing and Gear
To ensure the safety of those sterilizing dental equipment, they must wear the appropriate protective clothing and gear. Disposable or cloth laboratory coats or surgical scrubs must be long-sleeved, closed at the neck, and moisture resistant. Protective glasses and masks must be worn to protect eyes and lungs from chemicals, bacteria, and viruses during the sterilization processes. Rubber utility gloves will protect skin from the chemicals used during the sterilization process.
Instrument Sterilization
Cassettes, boxes, and parts pouches can be used to sterilize equipment. Cassettes are made of metal or resin, and can be placed in an ultrasonic cleaner. Metal parts boxes are best used for the sterilization of small items, including burs and dental dam clamps. Instruments can also be placed in special sterilization pouches that have indicator strips that change colors when the sterilization process has been completed.
Ultrasonic Cleaning Units
Ultrasonic cleaning units remove debris and hazardous materials from instruments, and reduce the risk of exposure to pathogens during the cleaning process.
Sterilizers
Sterilizers kill microbes, viruses, bacteria, and fungi. They come in a variety of sizes and types, including those that use steam to sterilize, those that use chemicals to sterilize, and those that use heat to sterilize.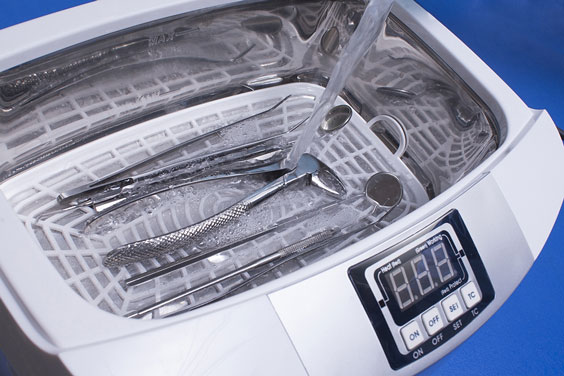 Ultrasonic Dental Instrument Sterilizer
---
Copyright © 2013- Dental-Instruments.org. All rights reserved.