Dental dams are a thin sheet of rubber latex or non-latex material designed to isolate teeth for dental procedures. Dental dams come in several sizes, thicknesses, and colors.

Several different tools are needed for dental dam placement, including dental dam punches, dental dam templates, dental dam clamps, dental dam clamp forceps, and dental dam frames.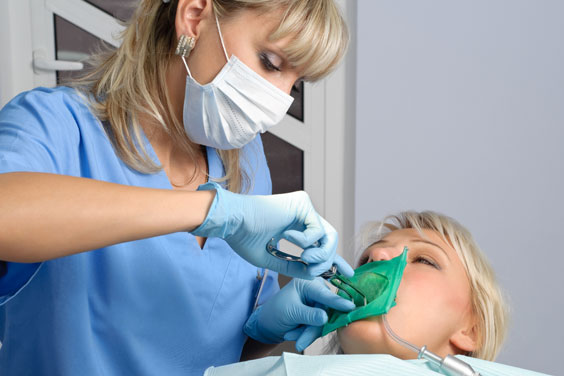 Dentist at Work, Using a Rubber Dam
Dental Dam Punch
A dental dam punch is used to make holes in the rubber dam, according to the size and the position of the teeth to be isolated. There are designated hole sizes for anchor teeth, molars, premolars, maxillary and mandibular cuspids, maxillary central and laterals, and mandibular central and laterals.
Dental Dam Template
Dental dam templates are made of plastic, and are used to guide where holes will be positioned on the dental dam.
Dental Dam Clamp
Dental dam clamps, usually made from chrome-plated or nickel-plated steel, are used to anchor the dental dam during treatment. They come in a variety of sizes and shapes, depending upon what teeth they are isolating.
Dental Dam Forceps
Dental dam forceps are used to place and remove dam clamps from teeth, before and after the dental procedure. Different manufacturers offer different styles of dental dam forceps.
Dental Dam Frame
A dental dam frame stretches the rubber dam away from teeth, so that there is a clear working area. There are several different styles of dental dam frames, and they can be made in a wide variety of materials, including metal and plastic.
---
Copyright © 2013-2021 Dental-Instruments.org. All rights reserved.