Amalgam is the material that is placed in cavities to fill them. There are many amalgam tools used during the cavity filling process, including amalgam carriers, condensers, liner applicators, burnishers, and carvers.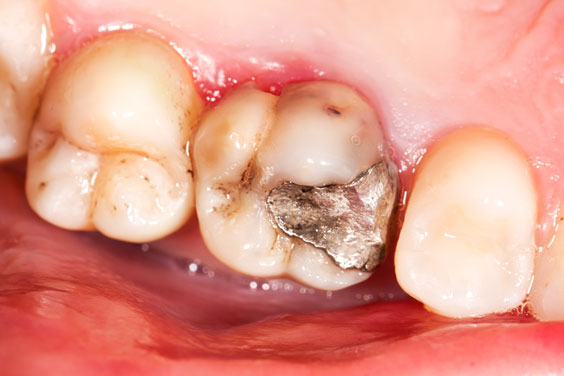 Old Amalgam Restoration and Secondary Caries in Molar Teeth
Amalgam Carriers
An amalgam carrier is a hollow tube, coated with metal or Teflon, that holds and dispenses amalgam. Amalgam carriers can be single or double ended; those that are double ended have a small and large end.
Condensers
Also called "pluggers," condensers pack amalgam and other restorative material into a cavity. They come in round, flat, and diamond shapes, and in three primary types: smooth, serrated, and interproximal. Smooth condensers have smooth ends, while serrated condensers have serrated ends. Interproximal condensers are specially shaped to fit mesial or distal areas, and can have either smooth or serrated ends.
Liner Applicators
Liner applicators place calcium hydroxide or glass ionomer during cavity preparation. They can have long or short handles, and can be single or double ended.
Burnishers
Burnishers smooth amalgam and other restorative materials, and can also be used to do the initial carving of amalgam. They come in many styles, including football, t-ball, ball, acorn, and beavertail.
Carvers
Carvers shape and carve the amalgam restoration. Carvers like the tanner carver and discoid-cleoid carver are used to carve occlusal anatomy into amalgam restorations, while the hollenback and half-hollenback carvers are used to contour and carve occlusal and interproximal anatomy in amalgam restorations.
---
Copyright © 2013-2021 Dental-Instruments.org. All rights reserved.